MAGISTAR COMBI, A LIFE'S CHOICE
Life is easy. Magistar Combi is the team leader in the kitchen, the assistant any chef would like to have: calm, reliable and experienced in cooking systems like few others. A new journey begins here.
Kitchen work is improved. Life is good! Thank you Zanussi.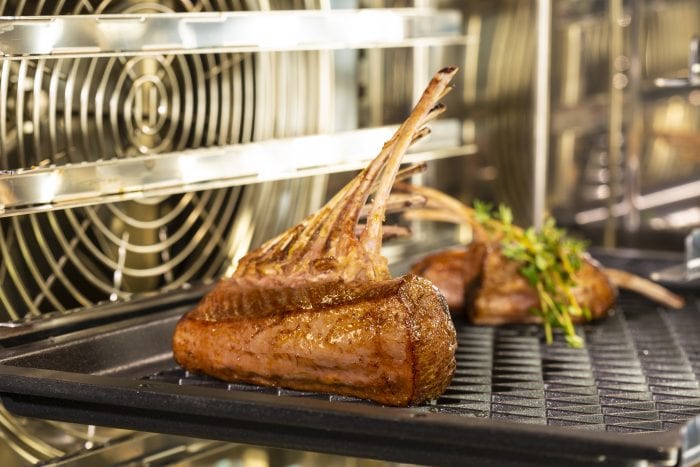 Filter (48 Products)
Magistar Combi TS
Electric Combi Oven 20GN2/1

218735

Magistar Combi TS combi boiler oven with touch screen control, 20x2/1GN, electric, 3 cooking modes (automatic, recipe program, manual), automatic cleaning (Australia)

Magistar Combi TS
Natural Gas Combi Oven 20GN1/1

218774

Magistar Combi TS combi boiler oven with touch screen control, 20x1/1GN, gas, 3 cooking modes (automatic, recipe program, manual), automatic cleaning (Australia)

Magistar Combi TS
Natural Gas Combi Oven 20GN2/1

218775

Magistar Combi TS combi boiler oven with touch screen control, 20x2/1GN, gas, 3 cooking modes (automatic, recipe program, manual), automatic cleaning (Australia)

Magistar Combi TS
Electric Combi Oven 10GN2/1

218733

Magistar Combi TS combi boiler oven with touch screen control, 10x2/1GN, electric, 3 cooking modes (automatic, recipe program, manual), automatic cleaning, boiler in AISI304 (Australia)

Magistar Combi TS
Electric Combi Oven 20GN1/1

218734

Magistar Combi TS combi boiler oven with touch screen control, 20x1/1GN, electric, 3 cooking modes (automatic, recipe program, manual), automatic cleaning (Australia)

Magistar Combi TS
Natural Gas Combi Oven 6GN2/1

218771

Magistar Combi TS combi boiler oven with touch screen control, 6x2/1GN, gas, 3 cooking modes (automatic, recipe program, manual), automatic cleaning, boiler in AISI304 (Australia)

Magistar Combi TS
Natural Gas Combi Oven 10GN1/1

218772

Magistar Combi TS combi boiler oven with touch screen control, 10x1/1GN, gas, 3 cooking modes (automatic, recipe program, manual), automatic cleaning, boiler in AISI304 (Australia)

Magistar Combi TS
Natural Gas Combi Oven 6GN1/1

218770

Magistar Combi TS combi boiler oven with touch screen control, 6x1/1GN, gas, 3 cooking modes (automatic, recipe program, manual), automatic cleaning, boiler in AISI304 (Australia)

Connectivity & Match function

Monitor your oven in real time from any smart device or computer thanks to Zanussi connectivity services.

The data helps you to optimize your production flow and reduce maintenance costs, ensuring that your business runs in line with food safety requirements.

Thanks to the new Match function, you can not only cook & chill but also prove & bake or thaw & cook.

Customisable menus

The touch screen user interface of Magistar Combi Ovens is not only easy and intuitive to use, but also customizable!

Try the new tool to upload your pictures to create your personal icons to be used in your Magistar Combi oven.

MAGISTAR COMBI-TS

Touch panel, easy and intuitive
11 humidity settings, for perfect food at all time
Automatic mode with con 11 new Special Cycles
Lambda sensor as standard
Program mode with 1000 cooking programs
AirFlow, the system for air distribution during cooking for uniform cooking results
6-sensor probe, incomparable accuracy in measuring the core temperature of the product
SoloMio is the homepage that you can customize by entering your favorite functions
Calendar allows you to plan your daily work and receive personalized alerts
Cooking Optimizer offers the most logical cooking sequence to optimize cooking times
HP Automatic Cleaning
Connectivity available

MAGISTAR COMBI-DS

Digital panel
11 humidity settings, for perfect food at all time
Lambda sensor as standard
Program mode, using the USB key, you can save and share your cooking programs on other MagiStar ovens
AirFlow, the system for air distribution during cooking for uniform cooking results
Core temperature control with probe
Hp Automatic Cleaning
Connectivity available

MAGISTAR COMBI-TI

Touch panel, easy and intuitive
11 humidity settings, for perfect food at all time
1000 cooking programs to save, categorize and share using the USB key
AirFlow, the system for air distribution during cooking for uniform cooking results
Core temperature control with probe
SoloMio is the homepage that you can customize by entering your favorite functions
Calendar allows you to plan your daily work and receive personalized alerts
HP Automatic Cleaning
Connectivity available

MAGISTAR COMBI-DI

Digital panel
11 humidity settings, for perfect food at all time
Program mode, using the USB key you can save and share your cooking programs (up to 100)
AirFlow, the system for air distribution during cooking for uniform cooking results
Core temperature control with probe
HP Automatic Cleaning
Connectivity available

Combi Ovens

2021-12-20T05:16:17+00:00