In 1916 ZANUSSI Professional released its first wood stove, that made cooking easier and quicker. Today, more than 100 years later, our induction hobs get you cooking straight away.
Modular Cooking offers a range of high-powered appliances for your kitchen, which allows the organization of an ideal work area and guarantees reliability and excellent performance over time, in accordance with the strictest safety standards.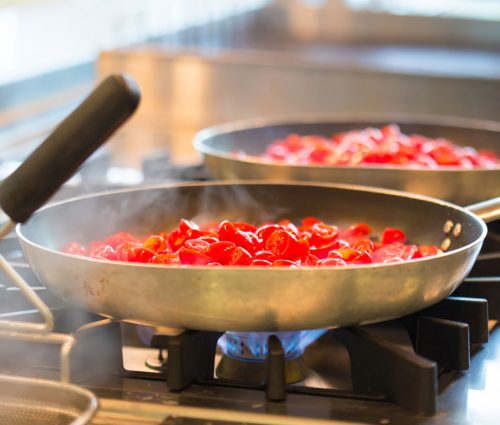 MODULAR CHOICE

fast & flexible

Greater efficiency

Trust an expert
The compositions are more or less unlimited and each one will undoubtedly meet your needs.
Our engineers collaborate with chefs and technicians to define exactly what the features will be.
Cooking becomes faster, while heat dispersion is almost completely eliminated, thanks to the high technology cooking surfaces.
Our consultants can recommend the products which best suit the customer's work project specifications.
Filter (155 Products)
Modular Cooking Range Line
EVO700 Half Module Electric Char-Grill Top

372239

Electric grill top, half module

Modular Cooking Range Line
EVO900 Half Module Electric Grill

392270

Electric grill, half module - free standing

Modular Cooking Range Line
EVO700 Half Module Electric Bain Marie Top

372096

Electric bain-marie top with 1 GN 1/1 well

Modular Cooking Range Line
EVO900 Electric Chip Scuttle

392098

Electric chip scuttle with 1 well and 1/1 GN container

Modular Cooking Range Line
EVO700 2 Hot Plate Electric Induction Cooking Top Range

372020

2-zone (3,5 kW each) electric induction cooking top

Modular Cooking Range Line
EVO900 1200mm Gas Fry Top HP, Smooth scratch resistant chromium Plate

392406

Large gas fry top with smooth scratch resistant chromium cooking plate, horizontal, thermostatic control, scraper included - HP (availability from Q2 2020)

Modular Cooking Range Line
EVO700 2-Hot Plate Electric Infrared Cooking Top Range

372024

2-zone (2,2 kW each) infrared cooking top

Modular Cooking Range Line
EVO900 Gas Solid Top

392018

Gas solid top

HIGH OUTPUT, STURDY & COMPACT

EVO700 & EVO900

Tradition that brings innovation.
Heritage that gives birth to growth.

There is no better description to present the new ZANUSSI Evo700 and Evo900 modular cooking ranges.
Both Evo700 and Evo900, the great ZANUSSI Professional modular choice, offer a wide range of cooking solution, top performance, excellent reliability and highly robust: all designed for a kitchen with considerable work loads to be performed quickly and with complete quality control.

ZANUSSI designed its products to meet the real needs of professionals and to ensure the utmost innovation and simplicity in any application.

GAS RANGES

Flower flame is the power of saving: guarantee flexibility and efficiency
Flexible performances
Maximum levels of power; solidity; efficiency and hygiene

ELECTRIC COOKING

Fast, flexible cooking
Solid and stable: sturdiness and solidity are guaranteed by the single piece panels
Easy cleaning: cleaning is made easier by the moulded steel surface

Induction HOBS

More power: induction guarantees power and delicacy all in one
Greater reliability and speed
It is easier to clean the glass ceramic hobs

INFRA-RED HOBS

Smooth surfaces
Fast movements
Power and independent control

FRYERS

Power and efficiency
Automatic fryer
Long lasting oil

GRILLS

HP grills: speed and savings
Work surfaces are made of 2 mm thick stainless steel
Radiation heating system to guarantee uniform temperature 

MULTI-PURPOSE COOKERS

Maximum flexibility
Can be used as fry-top, braising pan, boiling pan or bain-marie
Uniform distribution of heat

PASTA COOKERS

High productivity and guaranteed savings
Always constant boiling
Automatic and programmable lifting basket system

FRY TOPS

Polished or Brushed Chrome
Desired temperature, reached quickly
Uniform Heat distribution
Minimum Heat dispersion

FRY TOPS HP EVO900

Uniform heating and consistent cooking results
Better energy containment
Food Safety guaranteed (European Food Contact Materials Regulation)

The complete range also includes boiling pans, braising pans, bain-marie, solid tops, neutral tops and bases.

POWERFUL APPLIANCES FOR FASTER SERVICE

MISCELLANEOUS COOKING EQUIPMENT

Lean workflows are strategic for canteens preparing thousands of meals per day.

ZANUSSI Professional understands your challenges and helps you to optimize and improve your productivity offering you a wide range of cooking solutions:

Bratt Pans
Multifunctional Cookers
Fryers
Salamanders
Pasta Cookers

Modular Cooking

2021-12-20T05:16:17+00:00